Our Greensboro Workers' Compensation Lawyers Help People Hurt on the Job
Work directly with an experienced North Carolina attorney to seek relief for your workplace accident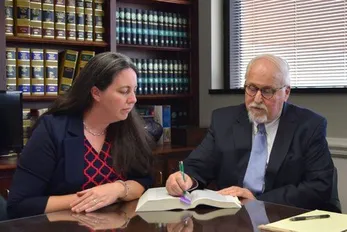 If you've been injured on the job, the workers compensation lawyers at Hodgman, Rowlett & Jahnes, P.A. in Greensboro are ready to help you obtain reimbursement for your medical bills, lost wages and rehabilitation costs. Call us today at 336-609-7593 for a free consultation and speak directly to one of our experienced workers' compensation attorneys. All of our attorneys are among the 150 North Carolina Board Certified Specialists in Workers' Compensation Law. Of the 28,000 licensed lawyers referred to on the North Carolina State Bar's website, only 4 percent have any type of Board Certification. We use our skill and experience to support community members when they have a job-related accident or illness. In cases arising out of construction accidents, vehicle collisions that occur while someone is driving for work and all types of other employment-linked medical conditions, we offer exceptional representation and service to individuals from Greensboro, Burlington, Eden, Lexington, Asheboro, High Point, Winston-Salem and the rest of North Carolina.
What is workers' compensation?
In North Carolina and elsewhere, the workers' compensation system is designed to benefit both employees and employers after someone suffers an injury on the job or contracts a work-related illness. Through this coverage, workers should have access to prompt reimbursement for medical costs and lost income without having to prove fault on their employer's part. Victims of workplace injuries are entitled to the following benefits:
Attendant care and home adaptation — Victims of serious workplace injuries might require in-home assistance for personal care and the completion of basic household tasks. Moreover, home modifications, such as the installation of ramps, could be warranted in light of an individual's physical limitations. These expenses should be covered under workers' compensation coverage.
Medical expense reimbursement — An employee whose workers' compensation claim is approved should not have to pay for their own medical expenses. This doesn't just cover doctor and hospital bills, but also incidental costs such as reimbursement of prescription drug charges and transportation expenses.
Income replacement — Someone whose job-related injury or illness prevents them from handling their workplace responsibilities can collect two-thirds of their annual weekly wage up to a maximum amount set by the state. For 2021, the weekly limit is $1,102.
Rehabilitation cost coverage — If you need occupational therapy or some other type of rehabilitation so that you can return to your job, those costs are paid for through workers' compensation benefits.
Permanent disability — Though many workers' comp recipients receive temporary benefits until they are ready to return to work, a job-related injury or illness can sometimes have permanent effects. Payment is available if a claimant has a total or partial disability, a disfigurement or a loss of function once they have reached maximum medical improvement.
Dependent death benefits — Surviving family members are compensated for burial expenses after a fatal workplace incident. They can also collect income replacement payments.
Temporary workers' comp wage replacement benefits are available for employees who will be unable to work for at least seven days. These payments last until the claimant can return to work or reaches maximum medical improvement with no work restrictions. If neither occurs, they can potentially continue for up to 500 weeks and possibly longer.
Experienced Greensboro firm represents clients suffering from occupational diseases
Workers' compensation benefits cover injuries and illnesses that develop over time as the result of someone's work duties. Some occupational diseases can include hearing loss, lung disease, cancer and carpal tunnel syndrome. The North Carolina Supreme Court has ruled that the worker must prove this by several factors that link the disease and working conditions. If you suffer from a workplace illness, you can ask the North Carolina Industrial Commission (NCIC) for the same benefits as on-the-job accident victims. Our attorneys will review your case and determine what factors will be most important in proving your case. From there, we will pursue a favorable decision on your claim.
Steps to take when filing a claim in North Carolina
You need to follow the necessary steps when initiating a workers' compensation claim. At the time you are injured or discover that you've contracted an occupational disease, you should notify a supervisor immediately. From there, a written report must be submitted within 30 days. If your employer rejects your request or seeks more information, it's important to respond quickly. We provide knowledgeable guidance at every step of the process.
Dedicated advocates strive to appeal workers' comp claim denials in North Carolina
Depending on the particular circumstances in your case, your employer's workers' compensation carrier might deny all or part of your claim. This is when retaining an effective attorney is critical. The denial could be based on the insurer believing that your medical condition resulted from activity that you engaged in outside of the workplace. In other cases, a claimant could be rejected due to the lack of medical documentation or an alleged failure to follow prescribed treatment. After a denial, an appeal must be filed with the North Carolina Industrial Commission (NCIC). Our firm provides strong advocacy in these appeals and court hearings.
Contact an experienced Greensboro workers' compensation lawyer for a free consultation
Hodgman, Rowlett & Jahnes, P.A. represents injured clients in North Carolina workers' compensation cases. To schedule a free initial consultation call 336-609-7593 or contact us online to discuss your matter with a qualified attorney. Our office is in Greensboro. Se habla español.